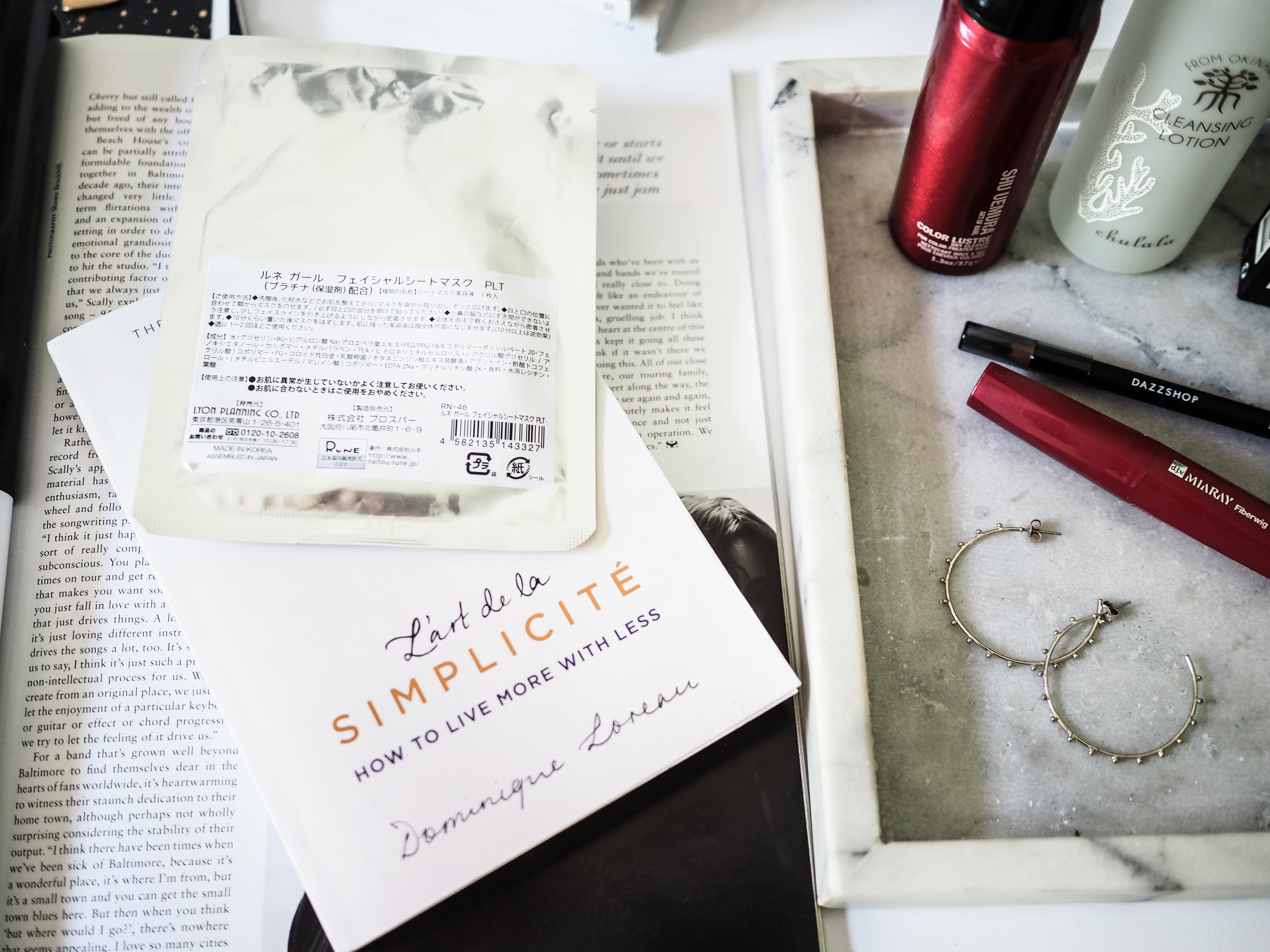 L'art de la Simplicité by Dominique Loreau / An insightful read into minimalism inspired by Japanese principles.
You may or may not know that I've collaborated with Maslow & Co to show you an insight into their monthly beauty edits, if you don't know now you know and hence this post features their Japanese beauty edit.
Firstly I'll start by saying how wonderfully authentic the box is, I was really impressed by the Australian beauty box but thought for sure that the next box I tried would only have 'inspired' products not actual products from Japan. Although at first I was kind of guessing what each product it was, those that were labelling originally in Japanese did have English labels on top (really important for those with allergies) so you can figure out each product quite easily. I think the most exciting part of this edit was the fact that there was maybe one brand I was aware of, this was Shu Uemura, some of you may be aware of it as it has gained a bit of popularity in Australia already. I loved the Shu Uemura Colour Lustre Dry Cleaner (2-1 Dry Shampoo), it works really well when your hair doesn't need a wash but need a bit of a touch up.
Another key call out product for me was the D.J.V Miaray Volume Lash Mascara, I have never heard of this brand before but have been using this product ever since I opened the box. To put it simply I've been amazed, and will definitely be purchasing this product in the future for regular use as it never smudges, gives a false lash effect without being too dramatic for daytime and does not irritate my eyes in the least (something that until now I haven't been able to avoid).
My other favourite was the Rune Platinum Facemask, it literally shrank the pores on my nose and I'm so uneasy about using the next one (box come with a set of two) because I don't want to be without it in the future. It works as a usual hydration mask would, slightly sticky and messy but the results are so worth it my skin had visibly reduced in redness and was super soft.
The last favourite for me is the Chulala Facial Cleansing Lotion, I have to admit the first application was a little strange for me. What basically comes out of the bottle is a water like substance and it doesn't foam like the cleansers I'm used to but the lotion works almost identically to the Rune Platinum Facemask in terms of results. Think of it as a face mask to apply daily without the effort, I haven't been using it long term but the pores (particularly on my nose) are significantly fading and redness is also reduced.
These are just some of my favourites from the edit, not to disregard any of the other products in the box - for me these were simply stellar and I will be incorporating most into my regular beauty regime. The box also includes some other really cool products such as the Doucce Liquid Eye Liner and the DAZZShop Eyebrow Pencil - these products were particularly however I just don't use something like this in my regular beauty routine. If you're interested to see what else is in this month's Maslow & Co Beauty Box follow this link to subscribe or all products can be individually shopped on the website.
If you're excited to try for yourself, you're welcome to your first edit free when you sign up for an annual subscription (6 edits total) until May 31 by using the code 'BASIS'. X